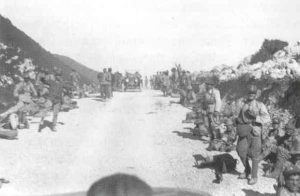 Diary for Friday, August 11, 1916:
Southern Fronts
Salonika: Italian 35th Division (11,000 men) and 32 guns lands (until August 25), relieves French 57th Division by August 27. General Cordonnier now in command of French Army of the Orient.
Western Front
Battle of the Somme: Joffre dissatisfied with offensive developing into innumerable minor actions, demands return to Allied attacks on broad front and writes to Haig proposing capture of line Thiepvall – High Wood – Ginchy – Combles – river Somme by 3 operations beginning on August 22. Then (c. September 1 ) attack to be against Grandcourt – Courcel­ette – Martinpuich – Flers – Morval – Rancourt – Bouchavesnes.