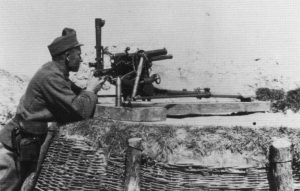 Diary for Tuesday, August 15, 1916:
Eastern Front
Brusilov offensive: Brusilov has received 26 extra divisions since June 12 (but Austro­-Germans 33 1/2, including 23 German).
Galicia: Lechitski reaches Solotwina west of Stanislau, gains heights south of Jablonitsa Pass (August 22).
Middle East
Armenia: Fighting starts south of Kigi between Turk IV Corps and new 6th Caucasus Rifle Division which drives former south of Ognot (August 18-25).
Sea War
North Sea: Royal Navy submarines E41 and E4 collide and sink on exercise (15 survivors); both boats salvaged and E41 reused.
Air War
Eastern Front: Fighter Ace Boelcke on visit to Kovel; invites Richthofen to join his new unit on the Western Front.