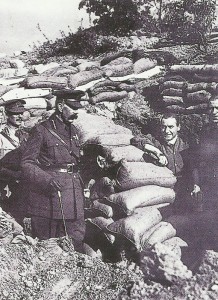 Diary for Monday, August 16, 1915:
Home Fronts
Britain: All-Party manifesto on National Service. Lloyd George tells War Policy Cabinet Committee 'The longer you delay, the nearer … disaster'. But Kitchener defends voluntary service on August 24.
Western Front
Kitchener visits France to see Joffre, convinced Allied autumn offensive necessary due to Russian collapse.
Artois: Falkenhayn warns German Sixth Army that Allied offensive imminent.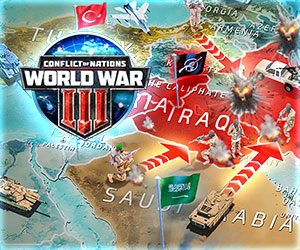 Eastern Front
Russians retreat to Brest­-Osovyets-Kovno line.
Southern Fronts
Balkans: Montenegrin border success against Austrians.
African Fronts
British accepts 1,000 South African soldiers for defense of Rhodesia.
Western Desert: Pro-Senussi bedouin attack 2 Royal Navy submarine crews at Ras Lick anchorage.
Sea War
Irish Sea: U-boat shells Cumberland coast at Whitehaven (no casualties).
Neutrals
Greece: Government resigns after Chamber defeat, Venizelos again Prime Minister.