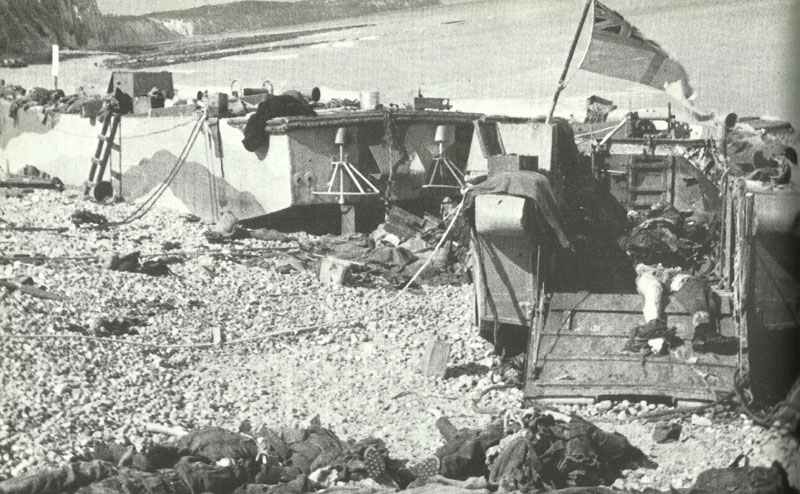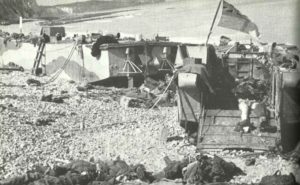 WW2 War Diary for Wednesday, August 19, 1942:
Western Front
France – DIEPPE RAID (Operation Jubilee): 6,100 Canadian troops and British Commandos (including elements of an US Ranger bataillon) with 30 new Churchill tanks carry out trial invasion, but are pinned down on the beaches and are unable to capture any important objectives. The secondary aim of the operation – to force the Luftwaffe in the West into a decisive battle and destroy its 500 bombers and fighters – is also a failure. 60 RAF fighter squadrons claim 91 destroyed and 44 probably destroyed (but Germans admit only 48 destroyed and 24 damaged). Destroyer Berkeley crippled by German fighter-bomber and finally scuttled; 33 landing craft lost.
[tableX caption="Dieppe Raid Losses" colwidth="25|15|15|15|15|15″ colalign="left|center|center|center|center|center"]
, Soldiers, Tanks, Ships, Small craft , Planes
British and Canadian , "4,340 (1,179 dead, 2,190 POWs)", 30, 1 destroyer , 33, 100
Germans, "591 (311 dead or missing)", -, 1 sub-chaser , -, 48
[/tableX]
Eastern Front
Stalingrad: Paulus and Hoth attempt to storm the city.
Siege of Leningrad: Garrison establishes small bridgeheads on German-held left bank of river Neva.