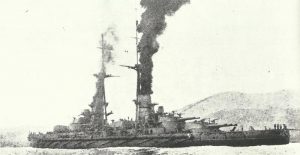 Diary for Wednesday, August 2, 1916:
Sea War
Mediterranean: Austrian saboteurs blow up and capsize Italian battleship Leonardo da Vinci in Taranto (248 dead). Italy makes no public announce­ment but 1917 raid in Zuerich on Austrian consulate proves sabotage.
Adriatic: 4 Franco-Italian destroyers pursue 2 Austrian destroyers to within 15 miles of Cattaro and survive U4 ambush on return.
Western Front
Battle of the Somme: Very hot day (88°F). German attack on Delville Wood repelled.
Verdun: French capture 2,550 PoWs and Fleury (until August 3), lose it and regain it on August 4.
Eastern Front
Germany: Hindenburg appointed to command whole front (he and Ludendorff visit Kovel and Lemberg on August 3, but Austrians then withdraw consent).
Western Russia: German gas attack in Smorgoni area fails (and on August 22).
Middle East
Armenia – Turk Offensive (­until August 15): Kemal's XVI Corps attacks 9,000 Russians at Mus and Bitlis.
Air War
Britain: 6 Zeppelins raid East Anglia (night August 2-3, 1 civilian casualties) despite Vindex Bristol Scout attack (first carrier home defence operation).
Somme: RFC helps range 19 batteries and finds 6 MG emplacements.
Occupied Belgium: 6 BE2s and 3 Moranes (1 lost) in 5-hours long-­range attack on Brussels Zeppelin sheds (4 near misses); 16 RNAS aircraft strike St Denis Westrem airfield (southwest of Ghent) and RFC bomb Coutrai and Bapaume stations.