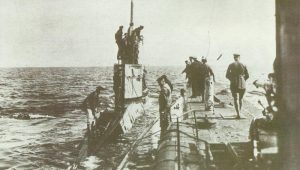 Diary for Sunday, August 20, 1916:
Sea War
Mediterranean: U35 (Arnauld) returns to Cattaro after record-breaking 25-day cruise (since July 26) sinkings with 900 shells and 4 torpedoes: 54 ships (32 Italian carrying 50,000t coal), totalling 91.0001 mainly in Western Mediterranean (French patrol areas).
Southern Fronts
Secret War: Austrians crack new Italian cipher system in 38 hours.
Salonika: Sarrail and his five Allied commanders agree to postpone offensive but launch counter­-offensive as Bulgar 7th Division causes 380 casualties to retreating French. Serbian General Jurisic-Stuerm replaced in command of Third Army by General Vassic.
Middle East
Armenia: IV Caucasus Corps retakes Mus bridge and 500 PoWs.
Persia: Baratov halts on Sultanbulak Pass 50 miles north of Hamadan, has 7,000 fit troops and 22 guns against 17,000 exhausted Turks.
Politics
Austro-Montenegrin peace talks broken off.