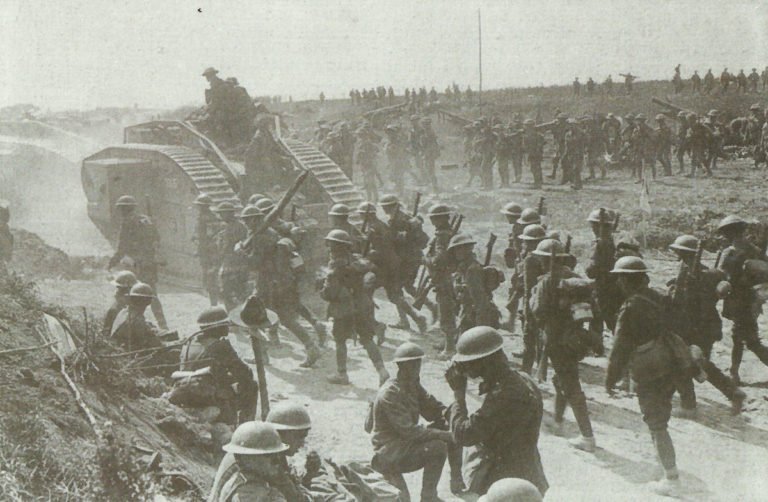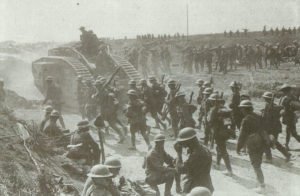 World War One Diary for Monday, August 26, 1918:
Western Front
Somme: GERMAN 10-MILE RETIREMENT on 55-mile line south to north of Noyon-east of Peronne-­Bapaume-Lens (night August 26-27). Ludendorff overrules army group commanders urging major retirement (up to 70 miles) to Antwerp­-Meuse position (Verdun-Sedan­-Charleroi-West of Brussels­-Antwerp).
Artois – Second Battle of the Scarpe (until August 30): 3rd Canadian Division with 2 tanks capture Monchy-Ie-Preux in First Army's 4-mile advance (supported by total of 45 tanks and 600 guns) for 1,500 casualties.
Eastern Front
Kuban: Volunteer Army captures Black Sea port of Novorossiisk (ex-Imperial officers from Crimea able to join); Denikin forms civil admin on August 28.
Finland: ­Government repudiate alleged help for German Murmansk expedition. Duke of Mecklenburg-Schwerin no longer candidate for throne.
Southern Fronts
Albania: Italian retreat over, causes concern for Otranto Barrage's east end to Commander British Adriatic Force who cables Valona endangered. Comando Supremo sends Puglia Brigade and later 13th Division, plus shifting division to Brindisi as reserve.
Middle East
Trans-Jordan: Buxton's force back at Bair; Lawrence leaves for Abu-el­-Nissal by armoured car to patch up Feisal-Hussein row (until August 30).
Azerbaijan – Baku: 1,000 Turks overrun British position (82 casualties) on Mud Volcano at fifth attempt; another coy repels 2 attacks on Binagadi Hill, but later (August 31) Turks force unsup­ported British (36 casualties) off it back 2-3 miles to inner line.
Air War
Somme: A No 59 Squadron RE8 calls down artillery fire on 3 bodies totalling 1,500 German infantry. Fokker DVII fighters (1 lost) destroy 6 of 9 US No 17 Squadron Sopwith Camel fighters over Bapaume-Cambrai road.
Artois: 5 RAF fighter squadrons support BEF First Army with 553 bombs and 26,000 MG rounds for loss of 5 aircraft (646 bombs and 47,570 MG rounds, 6 aircraft lost on August 27).