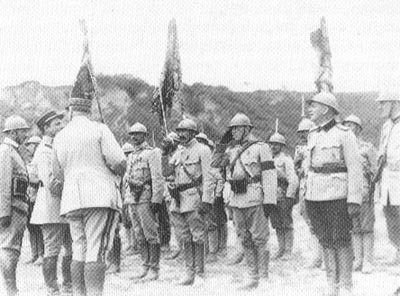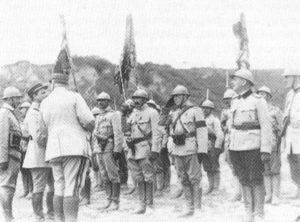 World War One Diary for Tuesday, August 28, 1917:
Eastern Front
Russia: CoS Kornilov appeals at Moscow National Conference for restoration of Army's discipline and supply. Kerensky tells General Barter that troops will winter in trenches and regain discipline.
Rumania: Mackensen attacks in Marasesti and Okna sectors; Russian divisions defects but Rumanians hold heroically at Varnita-Muncelu (until September 3).
Western Front
Verdun: French now stand on virtually same line as before German onslaught of February 21, 1916.
Sea War
Baltic: German aircraft drop 90 bombs on Russian shipping in Gulfs of Finland and Riga; destroyer Stroini crippled by 130lb seaplane bomb.
Air War
Arabia: 4 Royal Flying Corps aircraft from Kuntilla in Sinai (40 miles northwest of Aqaba) drop 32 bombs (4 hits) on Maan engine shed and barracks (c.100 Turk casualties); 3 aircraft bomb Turk Abu-el-Lisal camp and Maan again on August 29.
Italian Front: 1,474 Italian sorties flown since August 19, average of 225 aircraft per day, 81 aircrew killed.