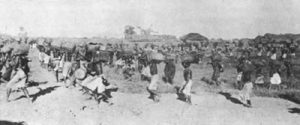 Diary for Saturday, August 5, 1916:
African Fronts
East Africa – Smuts resumes main advance through Nguru Mountains on Morogoro (Central Railway): 7,000 men and 36 guns against c.2,000 Germans.
Eastern Front
Brusilov offensive, Galicia: Hindenburg visits Zborov behind Suedarmee which fights Battle of Zalozce (August 7-10).
Southern Fronts
Macedonia: Bulgars cross Greek frontier to south of Monastir and occupy two villages (until August 7).
Middle East
Armenia: Kemal reoccupies Bitlis and Mus (August 6), taking 2 guns and 2 MGs.