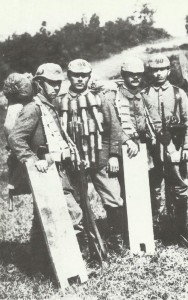 Diary for Wednesday, December 22, 1915:
Western Front
Alsace: First use of storm troops, Sturm battalion Rohrin (night 22/23) in successful German counter-attack on Hart­mannsweilerkopf: 82nd Landwehr Brigade recaptures the ridge, taking 1,553 PoWs but French success following day.
Flanders: Lieutenant-General H Wilson (ex-Chief liaison Officer to Foch) takes over IV Corps (until December 1, 1916).
Southern Fronts
Southern Balkans: 120,000 Bulgar troops just north of Greek frontier.
Middle East
Egypt: Sir A Murray replaces Maxwell as C-in-C.
Home Fronts
Britain: Churchill home on leave for christams holidays from Western Front until December 27, discusses conscription crisis with Lloyd George.