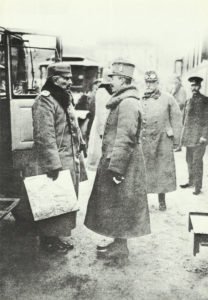 World War One Diary for Monday, February 12, 1917:
Politics
Austria: Emperor Charles meets Kaiser Wilhelm II at Vienna and refuses to break relations with USA.
Western Front
Somme: Successful British trench raid south of Souchez.
Eastern Front
Bukovina: Germans take Russian positions near Jakobeny with over 1,200 PoWs but Russians defeat attack on February 21.
Southern Fronts
Serbia: In Crna bend German surprise flamethrower attack recaptures Hill 1050 with 92 italian PoWs and MGs. Italians retake some lost trenches on February 27 with c.70 PoWs but fail to regain summit; 400 casualties in all.
Home Fronts
Britain: Commons votes £ 200 million war credit; war costing £5.7 million per day.
4lb loaf of bread now costs 11d.