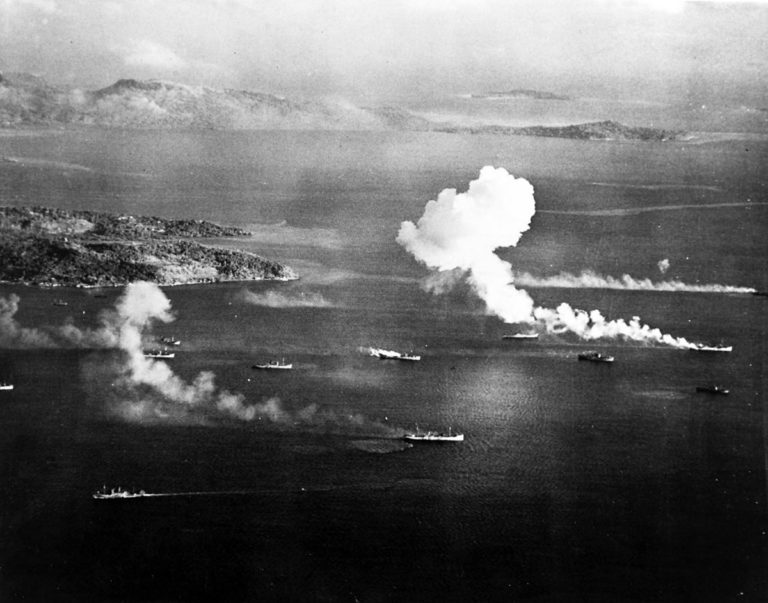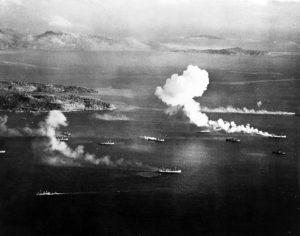 WW2 War Diary for Tursday, February 17, 1944:
Sea War
Pacific – THE TRUK RAID: 9 carriers of Admirals Mitscher's TF 58 launch massive air strikes (February 17 and 18) against Truk – great Japanese naval and air base in Central Pacific. 30 ships sunk and 250 planes destroyed. Battleships Iowa and New Jersey (Admiral Spruance) sink cruiser Katori and 2 destroyers. Japanese torpedo planes damage carrier Intrepid.
US warships bombard Rabaul and Kavieng (night February 17-18).
Mediterranean: HMS Penelope torpedoed by U-boat U-410 off Anzio (second, fatal, attack February 18).
Eastern Front
Southern Sector: Germans break out from Korsun Pocket by sacrificing their whole artillery and leaving their wounded soldiers back in this operation. 31,000 front line soldiers out of approx. 50,000 encircled troops reach the German relief columns in deep mud.
Air War
Mediterranean: Ceaseless Allied raids on German spearheads at Anzio.
Home Fronts
USA: Bomber crashes into US Navy barracks in San Diego, California (34 casualties).