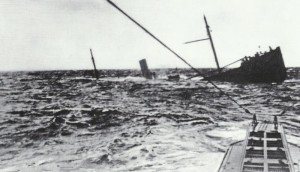 Diary for Tuesday, February 23, 1915:
Western Front
Flanders: Field Marshal French refuses to relieve 2 French corps north of Ypres due to 29th Divisions going to Salonika, Joffre replies French attack alongside British postponed until March 7, 1915, Haig already discovers this on February 28.
Sea War
Channel: U8 (Stoss) sinks 5 British steamers off Beachy Head until next day, total of 15,049 ts.
Red Sea: French cruiser Desaix lands marines at Aqaba.