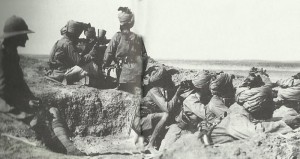 Diary for Wednesday, February 3, 1915:
Middle East
Egypt: 12,000 Turks try to cross Suez Canal until next day at 3 points; only 3 pontoons (c. 60 men) cross. Repulsed by Indian troops (163 casualties) and Allied warships, Turks losing 1,490 men (incl. 716 PoWs) and 3 MGs.
Western Front
Somme: Germans attempt to use incendiary-filled boats on river Ancre.
Champagne: Ger­mans take part of French front line in Noton Wood Hill 191 with more than 600 PoWs, 9 guns and 9 MGs.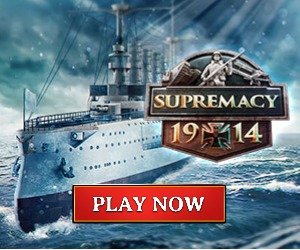 African Fronts
Cameroons: 750 British lose 120 men at Mbureku (and checked again on February 27) and Harmann's Farm.
British Somaliland: Camel Corps again defeats Dervishes at Shimber Berris until next day.
South Africa: Kemp and last 500 rebels surrender at Upington. Germans repulsed from Kakamas on river Orange next day.
Neutrals
Bulgaria: German loan of £3 millions.