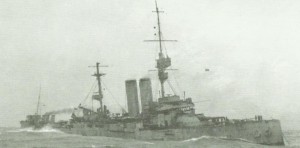 Diary for Thursday, January 6, 1916:
Sea War
Atlantic: Battleship King Edward VII sunk west of Scapa Flow off Cape Wrath on mine, one of the 252 laid by Möwe. 2 neutral steamers also destroyed but 71 mines cleared by May.
Flanders: 5 Dover Patrol monitors shell German coast batteries without reply.
Western Front
Verdun: Falkenhayn approves Fifth Army attack plan; it entails 10 light railways, concrete bunkers, and plank pathways. Artillery plan ready on January 8.
Southern Fronts
Albania: Rear-admiral Trou­bridge organizes feeding and care of Serb refugees at San Giovanni di Medua (Scutari's port), leaves in Italian destroyer on January 19-20 having correctly insisted Serb main evacuation takes place farther south.