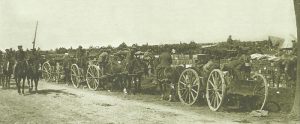 Diary for Monday, July 10, 1916:
Western Front
Battle of the Somme: Very hot weather, no wind. British 38th Division attacks Mametz Wood; most of wood secured until July 11 and finally occupied at noon of July 12 (c.2,400 Germans evacuated it on night July 11-12) by British 62nd Bdrigade of 21st Division. Green Howards of 23rd Division capture remains of Contalmaison village and taking 188 PoWs. German casualties now 40,187 excluding lightly wounded.
Eastern Front
Brusilov offensive: Russians claim 300,000 PoWs since June 4.
Pripet: ­Germans stiffen resistance (reinforced July 11) on Stokhod West bank.
Southern Fronts
Trentino: Alpini battalion fails to take Corno di Vallarsa, 2 Trentino volunteers with it captured, court-martialled and shot by Austrians at Trent.
Middle East
Armenia: Russians retake Mamahatun.
Sea War
Adriatic: Austrian U17 sinks Italian destroyer Impetuoso in Straits of Otranto.
North Sea: ­British freighter Calypso torpedoed.