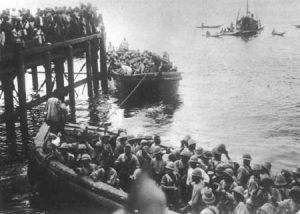 Diary for Wednesday, July 26, 1916:
African Fronts
East Africa: Gold Coast Regiment lands at Mombasa (2nd West Indian Regiment arrives on July 27).
Western Desert: British-Italian armoured car raid from Sollum.
Home Fronts
Britain – Commissions of Enquiry into Dardanelles (Cromer) and Mesopotamia (Hamilton).
Lloyd George vilifies conscientious objectors. Central Tribunal (July 27) finds 4,378 genuine cases (692 refuse to appear); 250 sent to Dyce near Aberdeen stone quarries late August for 8d pd, 1 dies early September.