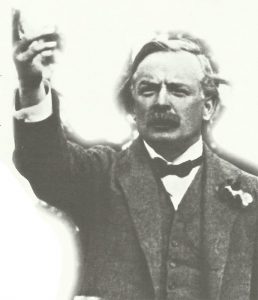 Diary for Friday, July 7, 1916:
Home Fronts
Britain: Lloyd George succeeds Kitchener as War Minister. Lord Derby Under-Secretary for War. Southampton receives record of 6,174 wounded from France.
Western Front
Somme: British 38th Division (nearly 4,000 casualties until July 12) repulsed at Mametz Wood; they capture Leipzig Redoubt (and night July 8-9), Contalmaison (lost in evening). 2 division commanders replaced for failure on July 9.
Eastern Front
Germany: Hindenburg cables Falkenhayn urging one Eastern Front command.
Brusilov offensive, Galicia: Austrian generals sabre back fleeing German troops in front of Russian general Lechitskl.
African Fronts
Eat Africa: Royal Navy and 500 Indian infantrymen (landed on July 5) occupy Tanga, Usambara railway terminus.
Sea War
North Sea: Minelayer sub UC7 depth­-charged off Lowestoft by HM motor boat Salmon. Royal Navy strengthens cruiser patrol north of Shetlands. Minelayer U77 sunk by Royal Navy escorts.