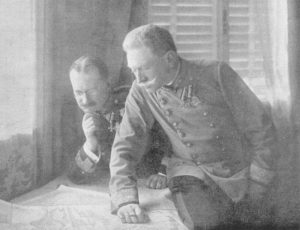 Diary for Wednesday, June 14, 1916:
Southern Fronts
Isonzo: Italians retake Adria shipyard and hills at Monfalcone, repel Austrian counter-attacks on June 17.
Trentino: Italian counter-offensive ordered. Last Archduke Charles infantry assault on Mt Ciove. Cagliari Brigade holds for 2/3 losses despite its 35th Division HQ being hit (June 12). Conrad accuses Dankl (Eleventh Army) of co­ordination failures, latter relieved of command at own request.
Eastern Front
Brusilov offensive – Pripet: Marwitz's X Corps arriving at Kovel from Verdun. Austrian cavalry (3 divisions + 1 brigade) plug 30-mile gap between Fourth and First Armies against Russian cavalry.
Sea War
North Sea: King George V visits Grand Fleet at Scapa Flow until June 15. Beatty letter (from June 9) to Jellicoe offers 'deepest sympathy in being baulked of your Great Victory' in the battle of Jutland.
Baltic­: Russian destroyers attack German convoy, sink auxiliary cruiser Hermann, 2 torpedo boats and also claim 2 steamers. Royal Navy submarine E19 (Cromie) survives 34 German aircraft bombs (June 10 and 12).
Politics
France: Allied Paris Economic Conference (until June 21, 8 nations), enemy to be denied favoured trade treatment for fixed postwar period. Britain approves on August 2.
Neutrals
USA: President leads Prepared­ness Parade, Washington.