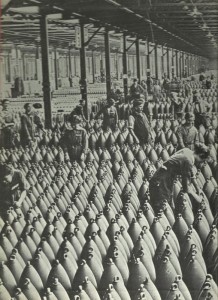 Diary for Thursday, June 24, 1915:
Home Fronts
Britain: War Munition Volunteer Scheme begins, 6­-month posting in any firm chosen by Ministry.
Western Front
Joffre and Field Marshal French agree at Chantilly on Western Front primacy, reject passive defense as unfair to Allies, and plan major offensive for August.
Politics
Britain: Conciliatory British memo to US on neutral trade.
Neutrals
USA: 70,000 at National German-American rally, Madison Square Gardens, New York.