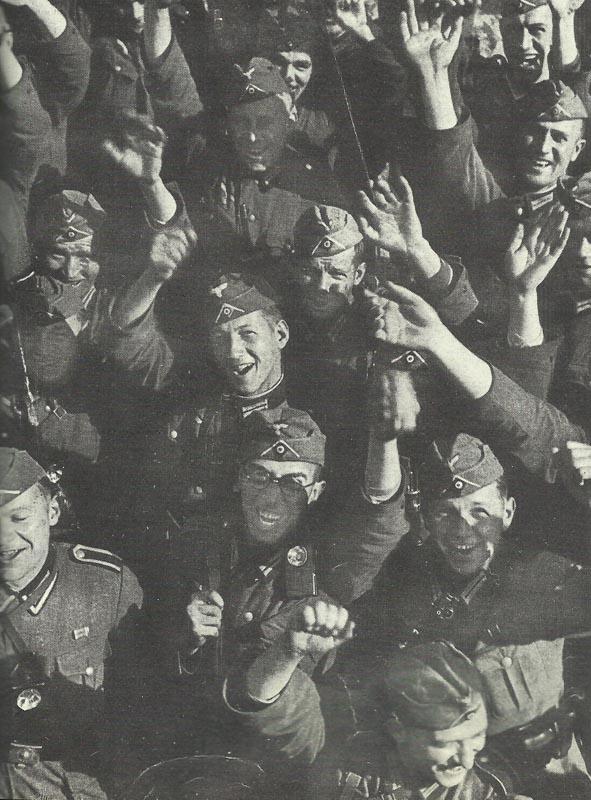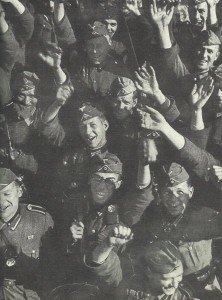 Diary for Tuesday, June 25, 1940:
Home Fronts
Germany – Armistice celebrations: Hitler issues proclamation announcing 'the end of the war in the West' and 'the most glorious victory of all time !'. Flags to be flown throughout the Reich for 10 days and church bells to be rung for 7 days.
France: Day of national mourning. Flags flown at half-mast.
Sea War
Operations Cycle and Ariel completed: 214,000 British and Allied troops evacuated from northwest and west France since June 15.
Neutrals
Switzerland: President Pilet-Golaz makes controversial broadcast: he expresses 'relief' at the 'end of the war in Europe' and suggests the replacement of Swiss democracy by an authoritarian system.
France
CEASE-FIRE ON ALL FRONTS from 12.35 a.m. (BST). Italians have made virtually no progress in their offensive except at Menton, on French Riviera.
BATTLE OF FRANCE LOSSES:

| (Totals, May 10 - June 25) | French | British | German | Italian |
| --- | --- | --- | --- | --- |
| Killed soldiers | 84,000 - 92,000 | 3,475 | 27,074 | 631 |
| Wounded soldiers | 200,000 - 250,000 | 15,850 | 111,034 | 2,631 (+ 2,151 sick) |
| POW's or missing | 1,900,000 | 48,804 | 18,384 | 4,494 |
| Guns | ? | 2,472 | ? | ? |
| Tanks | ? | 400 | ? | ? |
| Planes | 892 | ? | 534 | ? |
see also: German Orders of Battle from 25 June 1940 early, the day of the armistice with France