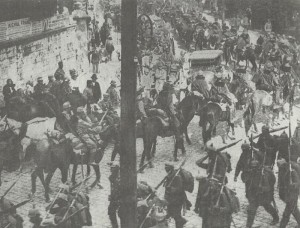 Diary for Thursday, June 3, 1915:
Eastern Front
Galicia: Austro-Germans retake Przemysl. High Commands including Kaiser meet at Pless; Mackensen to get 4 1/2 more divisions and to control two Austrian Armies. 3 Austrian divisions and Headquarter of Third Army (Boroevic, Puhallo succeeds) leave for Italian Front.
Western Front
Flanders: British capture trenches at Givenchy but abandon them. Germans shell Ypres.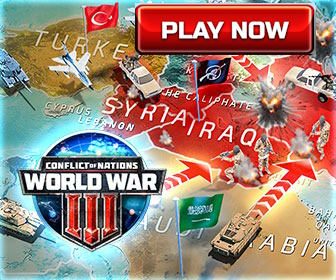 Middle East
Mesopotamia: 5 Royal Navy launches (Townshend and Captain Nunn) occupy Amara, take 1,000 Turk PoWs (a Turk officer cables wife 'safely captured').
Sea War
East Africa: Monitors Severn and Merser (4ft 9in (1.45 m) draft) reach Mafia island off Rufiji.
Air War
Western Front: French air raid (178 bombs) on field Headquarter of German Crown Prince.
Politics
Italy: San Marino declares war on Austria.
France: Allied Economic War Conference first meets in Paris.
Home Fronts
Italy: Prefects authorized to requisition farm machinery, labor and animals.