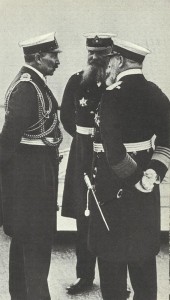 Diary for Sunday, March 12, 1916:
Sea War
Germany: TIRPITZ RESIGNS.
Adriatic: Admiral Haus memo to Conrad prevents Austrian Fleet making a 'ruthless undertaking' with Army's planned Tyrol offensive, cites 25 or more narrow escapes by cruisers and below from Allied submarines.
Southern Fronts
France: Allied Chantilly conference decides on status quo for Salonika; Italians say offensive in Albania impossible.
Italian Front: Italian artillery action on Middle Isonzo.
Middle East
Persia: Baratov occupies Karind, west of Kermanshah.
Afghanistan: Amir tells Hentig Mission he will allow c.20,000 Turco-Germans to attack Baluchistan, but Britain has given 40,000 rupees.
Politics
France: Allied Chantilly Conference decides on March 13 for summer offensives.