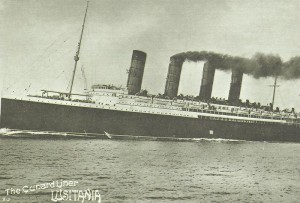 Diary for Friday, May 7, 1915:
Sea War
Irish Sea: Unescorted unarmed British Cunard liner LUSITANIA (32,000t) SUNK in 20 minutes, torpedoed from 765 yards (0.7 km) without warning off Old Head of Kinsale (Southwest Ireland) by U20 (Schwieger); 1,198 (including 124 Americans) dead.
North Sea: British destroyer Maori mined and sunk.
Baltic: Russian cruisers engage German cruiser München off Libau which Russians evacuate. New German destroyer V107 crippled by mine entering the port next day.
New Royal Navy submarine base is Dago Island off Gulf of Riga. German land advance has forced move from Libau. E9 attacks and wrongly claims German transport off there after firing 5 torpedoes at 3 transports and cruiser Roon escort.
Western Front
Artois: French begin demolition fire until next day but hampered by no high ground for observation.
Eastern Front
Carpathians: Russians retreat to river Wistok and blow up Lupkow Pass tunnel.
Politics
Japan: Government ultimatum to China, accepted by deadline.
Home Fronts
Britain: Compulsory three-year bonding replaces increased liquor duties.