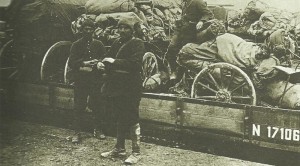 Diary for Sunday, November 21, 1915:
Air War
Mesopotamia: Major Reilly Royal Flying Corps shot down by MG fire and captured near Ctesiphon before he can report crucial Turk reinforcements (51st Division); 4 still surviving aircraft help to cover Townshend's retreat later to Kut (November 25­-30).
Western Front
Artillery duels in Artois and Champagne.
Southern Fronts
Serbia: Serbs driven from Novi Pazar. French retreat south of river Crna and prepare for retreat to Salonika (November 22-23). Putnik gives order for retreat into Albania. Serb First Army down to 15,381 rifles on November 20, but morale still good, other units worse off with sickness and desertions.
African Fronts
Cameroons: 2 British columns (550 men) meet at Bagam in West, advance 12 miles east to river Nun (until November 23) and cross by raft (November 27-29), unite for advance on Fumban (November 30).