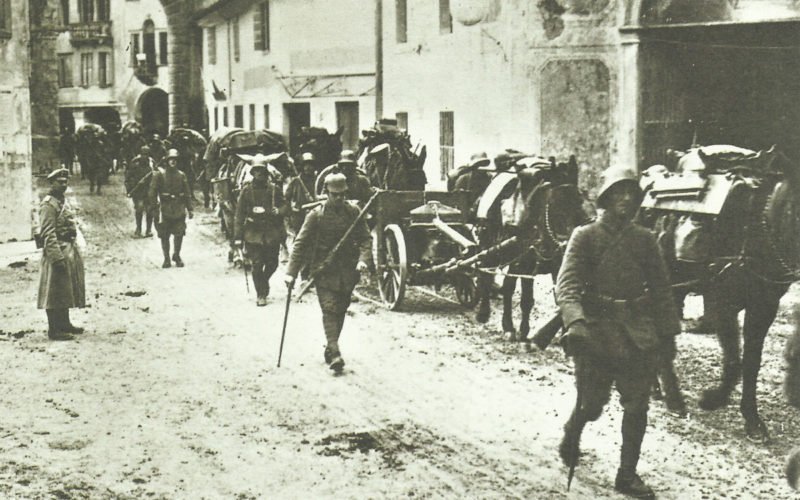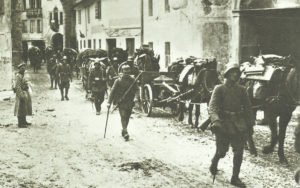 World War One Diary for Thursday, November 22, 1917:
Southern Fronts
Piave: Crisis day in key Mt Grappa sector as Austro­-Germans storm onto Mt.Tomba (3,176 ft), but Laderchi's IX Corps' final effort drives them off (one Italian regiment reduced to 400 soldiers) and reserves consolidate on November 23.
Trentino: Austrian mountain troops storm Mt Pertica from Monte Baldo Alpini battalion, but Alpenkorps and Austrian 50th Division fail to hold gains to east until November 23.
Salonika: 150 Bulgars raid British line at the Mamelon (night November 23-24), Lake Doiran sector, causing 27 casualties.
Eastern Front
Russia: Lenin sacks Dukhonin for refusing to negotiate and makes Ensign Kirilenko C-in­-C. He leaves for Northern Front, his Order No 1 ends 'Long live immediate peace!'.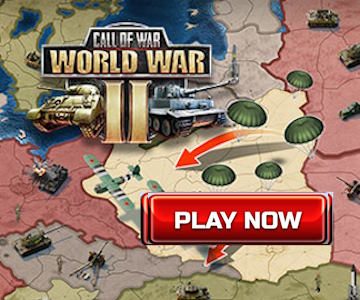 Western Front
Cambrai: Germans recapture Fontaine-Notre-Dame.
Air War
Cambrai: 19 Royal Flying Corps pilots (8 aircraft lost or wrecked) attack German columns and positions; 3 German fighters shot down.
Middle East
Palestine: Turks fail three times to regain Nebi Samwil Hill (2,942 ft) from 75th Division but it and 52nd Division fail at El Jib Height on November 24.
Aden: British take Turk post at Jabir, 15 miles north of Aden (British strength increased from 7,137­ on October 1, 1917 to 10,2781 soldiers on November 1, 1918).