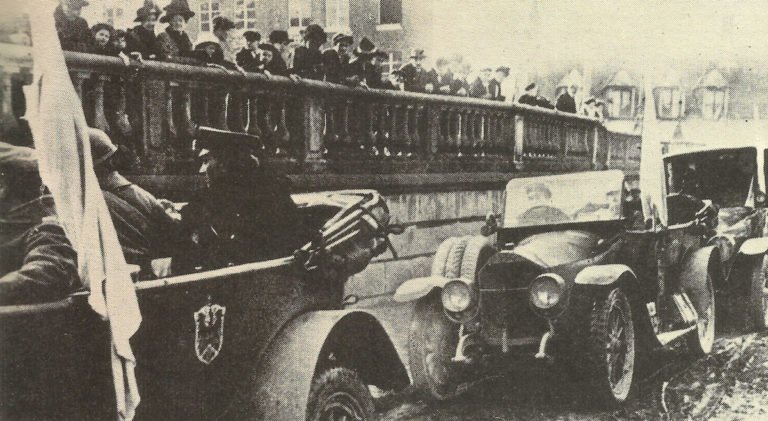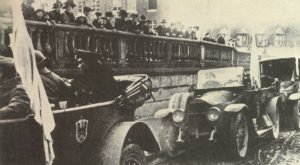 World War One Diary for Friday, November 8, 1918:
Western Front
France: GERMAN ARMISTICE DELEGATION led by Erzberger SEES FOCH at 0900 hours, refer terms to Berlin 1300 hours. GERMAN SENIOR COMMANDERS UNANI­MOUSL IMPLY TO IMPERIAL CHANCELLOR THAT ARMY CANNOT BE RELIED ON, IF ORDERED, TO SUPPRESS UPRISINGS AT HOME.
Germans retire from Hermann position (Oudenarde-Tournai-Conde). BEF begins advance to Armistice Line (18,000 PoWs taken since November 1). US Second and First Armies and 4 French Armies begin final advance.
Sambre: British 32nd Division (Fourth Army) captures Avesnes.
Scheldt: Germans begin withdrawing opposite BEF Fifth Army at 0200 hours. British patrols soon discover abandoned German bridgehead west of Antoing-Tournai, British quickly reach western bank from Bruyelle to Froyennes and cross river.
Eastern Front
Poland: Leaders tells Austria they has assumed sovereignty over Galicia.
Politics
France: German Armistice delegates reach Foch's Headquarter.
Germany: Prince Max's proclamation to Germans abroad. King of Wuerttemberg and Duke of Brunswick abdicate. Pilsudski released from Magdeburg fortress to Berlin, arrives Warsaw on November 10.
USA: Wilson cables congratulations to new governments at Vienna, Budapest and Prague.
Britain: Blockade Minister warns enemy ships' transfer will not be recognized.
Home Fronts
Germany: Revolutionaries seize 11 major cities. Munich crowd demand Kaiser's abdication. Troops occupy Berlin essential services. Bavarian battalions reach Brenner Pass to guard it vs Allies but go home on November 10. Belgian Brussels Burgomaster Adolphe Max escapes from Goslar.
Austria: War Minister and Emperor order that new loyalty oath replaces imperial one.
Britain: Final wartime import restrictions (first relaxation on November 14).