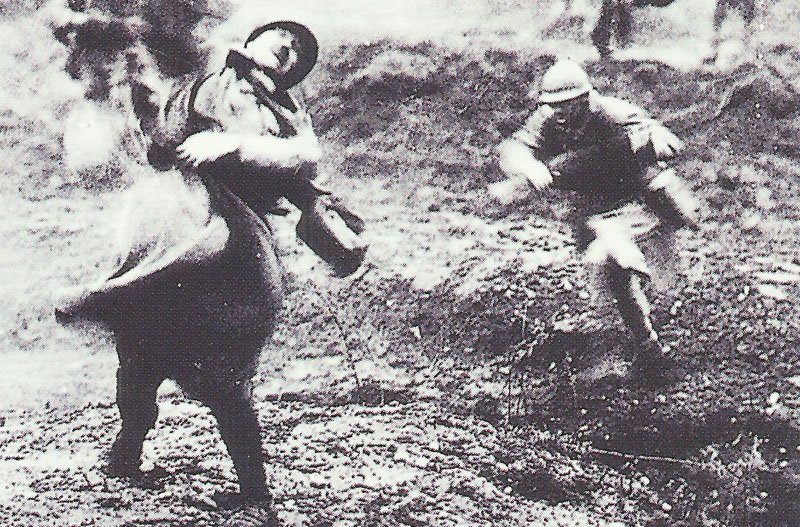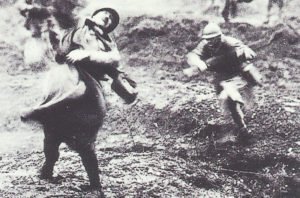 World War One Diary for Tuesday, October 10, 1916:
Western Front
Battle of the Somme: In the south French Sixth Army resumes offensive (until October 21); woods captured northwest of Chaulnes and ground gained toward 3 villages with 1,400 PoWs on 3 1/2-mile frontage; repulses counter-attacks at Bois de Chaulnes taking 1,702 PoWs (October 11).
Eastern Front
Russia: Tsar's order officially ends Brusilov Offensive.
Transylvania: Averescu takes over Second Army which halts in Predeal Pass (3,415 ft).
Southern Fronts
Macedonia: General Otto van Below made Army Group commander for Macedonia (until April 22, 1917; headquarter at Uskub = Skopje) to stiffen Bulgars, requests reinforce­ments (October 20); 6 battalions (3 Jaeger) and 48 guns sent from Western and Eastern Fronts, formed into Division Hippel by mid-November. Another 6 battalions follow from Western Front.
Isonzo: Italians attack at 1450 hours in pouring rain, capturing in Austrian first line 5,034 PoWs, Hills 86 and 95, Mt Sober (east of Gorizia), Nova Vas village and Hill 144 (Carso). Futurist architect Antonio Sant' Elia killed, aged 28.
Middle East
Mesopotamia: New C-in-C India Monro (appointed October 1) at Basra, visits Tigris Front, cables GIGS (October 19) that forward positions easy to maintain.
Arabia: Feisal's 7,000 Arabs retreat southwest from Bir Abbas to Hamra before Turk advance from Medina (actually just 80 camel-men).
Neutrals
Greece: Allied ultimatum for Greek Fleet's surrender by noon (October 11) plus all but 3 coast batteries and Piraeus-Larissa railway, accepted on October 11.