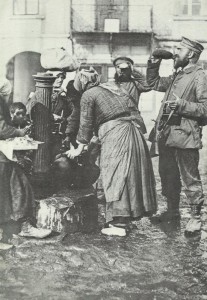 Diary for Tuesday, October 26, 1915:
Southern Fronts
Serbia: Germans troops link with Bulgars south of Danube.
Isonzo: Italians capture Globna and Zagora but lose latter.
Air War
Western Front: Observer Lt Hallam, hit in hand, lands a 10 Squadron BE2c after pilot uncon­scious from Fokker E attack.
Home Fronts
Britain: Asquith letter to Tory Lord Selborne predicts Field Marshals French's replacement by Haig.