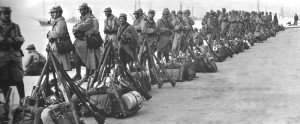 Diary for Tuesday, October 5, 1915:
Southern Fronts
Salonika: 13,000 French and British troops land.
Serbia: Austro-German artillery bombardment begins including c. 170 guns (nearly 40 x 305mm and 420mm superheavy mortars) for Belgrade crossing.
Trentino: Italian progress towards Rovereto.
Western Front
Artois: Skirmishes.
Champagne: Skirmishes.
Neutrals
Greece: Venizelos resigns at King's request despite 46 majority for aiding Serbia (October 4), Zaimis new neutral Prime Minister on October 6.
USA: Ambassa­dor in Turkey protests against Armenian massacres.
Home Fronts
France: First War 'Loan of Deliverance' starts.
Britain: Lord Derby made Director-General of recruiting, calls on all fit men (18-41 age) to volunteer by December 12 on October 11.