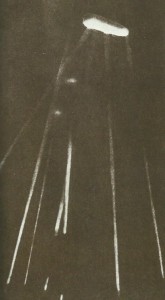 Diary for Saturday, September 11, 1915:
Air War
Britain: Abortive German airship raids (2 Army, 1 Navy Zeppelins) nights September 11-12, 12-13 and 13-14. None reach primary target, London; trifling damage in Harwich area.
Eastern Front
Baltic Provinces: III Siberian Corps retreats 50 miles until next day to cover Dvinsk.
Galicia: Austrian retreat towards river Strypa.
Sea War
Italy: Rear Admiral Millo removed from lower Adriatic Scouting Division to Naval Academy for opposing Pelagosa evacuation despite Abruzzi's support.
Politics
Allied Calais Conference: Joffre opposes Eastern operations extension.
Home Fronts
Britain: Association Committee report on war work fatigue. Health of Munitions Workers Committee appointed on September 17.