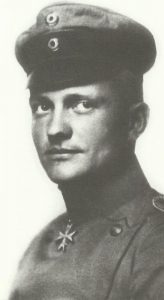 Diary for Sunday, September 17, 1916:
Air War
Western Front: Captain O Boelcke leads first combat patrol of 6 Jasta 2 brand-new Albatros DII fighters to shoot down 5 No 12 Sqn BE2cs (one to Boelcke) returning from Marcoing station raid. Rich­thofen's first victory is an (11 Squadron) FE2b escort fighter.
Sinai: German Fokker thwarts Royal Navy bombardment of El Arish by shooting down 2 Sopwith Baby seaplanes (another lost to MG ground fire) and bombing the 4 warships. But German squadron later withdrawn to Beersheba.
Southern Fronts
Isonzo: Italian offensive suspended due to bad weather after 17,000 casualties and 4,500 captured Austrian PoWs. Breaches in wire not wide enough for rapid infantry assault.
Macedonia: Russian Brigade and French 57th Division recapture Florina; Bulgars retreat slightly north to river Brod by September 20.
Middle East
Sinai: Anzac Mounted Division attacks Mazar 45 miles east of Romani; 2,200 Turks evacuate 18 miles to El Arish (September 19).