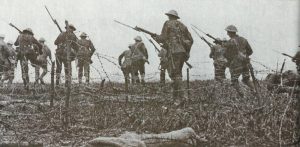 Diary for Monday, September 18, 1916:
Western Front
Battle of the Somme: British Guards Division captures the 'Quadrilateral' (to depth of 1,000 yds). French I Corps executes two successful local (evening) surprise attacks and gain ground south and southeast of Combles.
Middle East
Sinai: British raid Bir-el­-Tawal 30 miles south of Kubri.