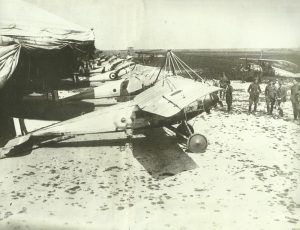 Diary for Sunday, September 24, 1916:
Western Front
Battle of the Somme: British repulse counter-attack west of Lesboeufs.
Air War
Western Front: 60 RFC fighters (3 lost) destroy at least 4 German aircraft, in group attacks on Cambrai area airfields.
France: Dunkirk has 17 casualties to German bombs (1 raider shot down).
Germany: 2 French aircraft drop 12 bombs on Krupp, Essen.
Home Fronts
Canada: £20 million war loan; £16m over-subscribed.