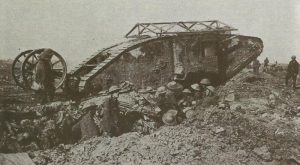 Great War Diary for Tuesday, September 26, 1916:
Western Front
Battle of the Somme – Battle of Thiepval Ridge (until September 28): British with 13 Tank Mk I capture Thiepval (18th Division German soldier writes '… it was absolutely crushing'), Combles (56th Division with 2 tanks and 2 French regiments) and Gird Trench; first air-tank co­operation with 21st Division at Guedecourt (400 PoWs) captures 500 yds of trench for 5 casualties.
Foch redirects main French attack due north on Sailly – Sallisel (V Corps covers their flank) but launched at 1600 hours achieves little (vainly repeated on September 27). Commander Fayolle tries to resign due to this failure.
Eastern Front
Transylvania – Battle of Hermannstadt (until September 29): Falken­hayn's Ninth Army attacks in fine weather towards Roten­turm Pass (11,555 ft) which German Alpenkorps crosses, Hermannstadt retaken (September 29); 3,000 Rumanian PoWs in First Army defeat.
Middle East
Armenia – First snow falls. Turks evacuate Mus, their Second Army losses 30,000 (since August 2) reducing it to 60,000 soldiers. Russian losses 50,000 since June including in Persia. Early winter quarters for both sides.