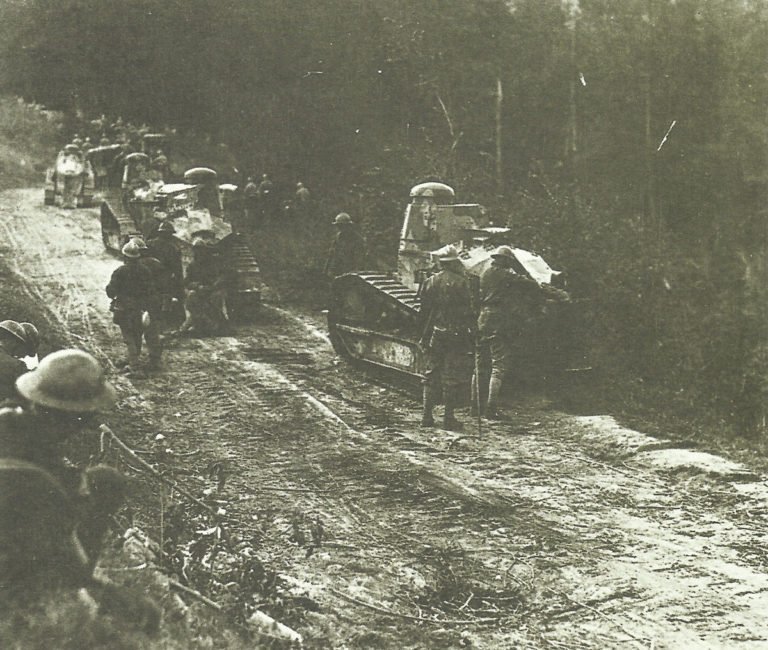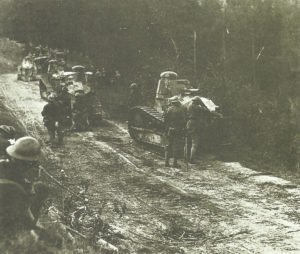 World War One Diary for Thursday, September 26, 1918:
Western Front
France – FOCH LAUNCHES GENERAL OFFENSIVE: 1st Phase (until October 15). BATTLE OF MEUSE­-ARGONNE (until November 11): After 3 hour barrage 37 Franco-American divisions attack at 0530 hours on 40-mile front from Champagne to Meuse with 705 tanks available, average advance 3 miles. AEF gas effort: 800 million rounds (1600t) mustard gas and phosgene; 10,600 gassed (278 deaths; until November 11).
Southern Fronts
Bulgaria: North of Kosturino at 0800 hours (95°F in shade) Derbyshire Yeomanry meets Bulgar car with white flag and Todorov letter to Milne. Bulgar capital Sofia still 130 miles and five mountains ranges to north. BULGARIA REQUESTS ARMISTICE.
Serbia: ­Serb cavalry capture Kocharia, Drina and Morava Divisions liberate Veles after hard fighting vs 4 German battalions. Allies now have 10,000 PoWs and 200 guns.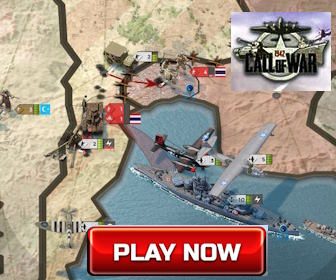 Middle East
Palestine: Allenby meets corps commanders at Jenin, orders advance on Damascus.
Trans-Jordan: 10th Cavalry Brigade at Irbid fails vs Turk Fourth Army flank guard. Arab Army (3,000 men) crosses Hejaz Railway north of Deraa (Colonel Oppen's 700 Germans reach, railed to Riyak on September 27), takes 2 stations and over 600 PoWs.
Air War
Germany: 4 Handley Pages of No 216 Squadron damage railways and bridge at Metz-Sablon causing delays and dislocation for 24 hours.
Western Front: Mitchell's 842 US aircraft vs 302 German for Meuse-Argonne Offensive (­until November 11), but weather restricts close support. Germans claim 63 Allied aircraft for loss of 3.