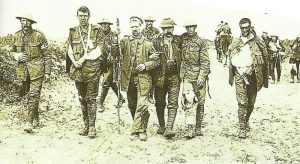 Great War Diary for Wednesday, September 27, 1916:
Western Front
Battle of the Somme: British attack Stuff Redoubt and advance north of Flers. Thiepval (ruins) captured by British after hand-to-hand fighting.
Verdun: French repulse attack at Thiaumont­-Fleury.
African Fronts
East Africa: Belgians occupy Sikonge and Ipole before retiring to Tabora.
Ethiopia: Muslim 'Emperor' Lij Yasu, focus of Turco­-German intrigue (supporters defeated by November 2) deposed for Empress Judith; Ras Tafari (Haile Selassie) regent and heir to throne.