World War One Diary for Thursday, July 2, 1914: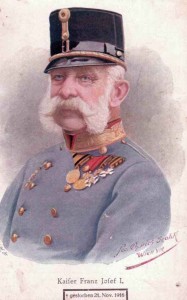 POLITICS: AUSTRIA
German Ambassador assures Count Berchtold and Emperor Francis Joseph ('I see a very dark future') of Berlin's support.
Francis Joseph asks Colonel Bardoff: 'And how did the Archduke bear himself ?' – 'Like a soldier, Your Majesty.' – 'That was to expected from His Imperial Highness'.
POLITICS: GERMANY
Germany announced that the Kaiser is not attending Archduke's funeral; he annotates Count Tschirschky's dispatch from 30 June: 'As for the Serbs, it is necessary to finish with them as quickly as possible'.