World War One Diary for Tuesday, July 21, 1914: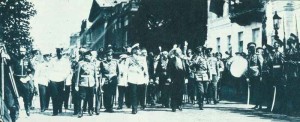 POLITICS: AUSTRIA
Conference at Ischl and Budapest on Serbia: Francis Joseph tells Finance Minister 'Russia cannot swallow it. There's no mistake about it, it will be a big war'.
Russian Ambassador leaves Vienna for holiday after being assured Austrian demands will not cause crisis.
POLITICS: GERMANY
Bethmann tells Allied Ambassadors that Austria's demand 'equitable and moderate'. French Ambassador informs Paris of alleged German mobilization signs.
POLITICS: RUSSIA
President Poincare says France will fulfil 'all her obligations in the alliance with Russia'.
Great St Petersburg strikes including barricaded streets against police (July 25-26) in protest at troops' suppression of Baku oilfield strike.
POLITICS: PERSIA
Ahmed Mirza crowned Shah at Tehran.