World War One Diary for Wednesday, July 8, 1914: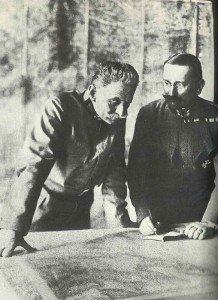 POLITICS: AUSTRIA
German Ambassador in Vienna insists to Austrian foreign minister Berchtold on necessity for an energetic attack on Serbia before Russia can intervene. Austrian official is speaking to Ambassador of Rome: 'We are completely one with Berlin . . . they send complete backing against Russia'.
Berchtold ask Chief of Staff Conrad and War Minister General Krobatin to go on usual summer leave until July 22 as a cover.
POLITICS: GERMANY
Chancellor says 'if there is no war, if the Tsar does not want war or if France, frightened by the prospect, pleads for peace, we have at least the chance to divide the Entente by our action.'