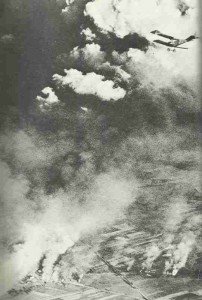 War Diary of World War One for Friday, August 28, 1914
Eastern Front
East Prussia: Francois drives east for Neidenburg to envelop Samsonov who joins troops and orders general retreat. Rennenkampf occupies Rastenburg. Hindenburg and Ludendorff move HQ to Tannenberg and Goltz's 1st Landwehr Division arrives by rail from Schleswig-Holstein.
Poland – Komarow: Russian V Corps destroys Austrian 15th Division (4,000 PoWs and 20 guns) but Austrian XIV Corps (Archduke Joseph Ferdinand) routs Russian 61st Division, taking 40 guns.
Sea War
North Sea – Battle of Heligoland Bight: British cruisers (total 5 battlecruisers, 8 cruisers, 31 destroyers) launch a foray into German waters as part of a plan to lure elements of the German High Seas Fleet into an unequal fight, and also prevent German warships from attacking convoys transporting following units of the British Expeditionary Force across the English Channel to France. The engagement, known as the Battle of Heligoland Bight, begins at 0700 hours. British light cruisers and destroyers under Commodore Tyrwhitt catch the Germans by surprise and enjoy success against German torpedo-boats.
However, the Germans recover from their surprise and their more powerful warships get up steam and sail out from their anchorage in the Jade River to attack the British. The German warships threaten to inflict severe losses, but the sudden arrival of reinforcements, chiefly five battlecruisers under Admiral Sir David Beatty, cover the withdrawal of the initial British force. The German battlecruisers leave their port too late to help.
No British ships are sunk during the battle, while 4 German vessels (cruisers Mainz, Köln, Ariadne and destroyer V187 and 3 more cruisers damaged) are sent to the bottom. The battle is seen as a clear­ cut success by the British, but their euphoria serves to mask severe shortcomings, particularly in the planning and conduct of complex multi-force naval operations. However, the British raid has a profound impact on the morale of the German high command. Kaiser Wilhelm II warns his naval commanders that the High Seas Fleet, already outnumbered by the British navy, cannot afford such losses. Plans to use the High Seas Fleet in large-scale offensive operations in the North Sea are shelved.
Western Front
France: Kaiser orders advance on Paris. Germans capture Fort Manonviller (Avricourt) and Montmedy. Sir J French at Compiegne. German Third Army advances on Rethel as French Fourth Army withdraws to river Aisne.
Lorraine: Foch recalled to command 7 divisions on Aisne as new Ninth Army on the left flank of Fourth Army. BEF crosses Somme, withdrawing on Noyon and La Fere (BEF cavalry cause 300 German casualties). Joffre redeploys Fifth Army for counter-attack.
Alsace: French Belfort garrison advances into Alsace, 11 miles (ca. 18 km) by September 10.
Meuse: Signy­-l'Abbaye changes hands 3 times as Dubois' IX Corps stems Hausen's advance on Rethel (Aisne).
Southern Fronts
Italy: Italy reinforces troops covering Friuli in northeast; more covering troops deployed from 1 September.
The day before, Foreign Minister Di San Giuliano disagrees with Cadorna's argument that early Italian mobilization and military intervention could decide the war. War Minister vetoes scheme to add 7500 officers to Italian Army.
Austrian General Rohr, put C-in-C Italian Front (called Southwest Front).