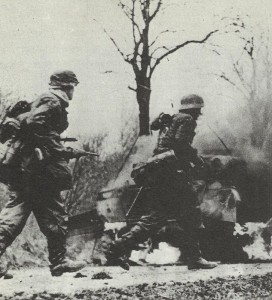 War Diary WW2 for Thursday, December 21, 1944:
Western Front
BASTOGNE BESIEGED. US 101st Airborne Division and 10th Armored Division have to be supplied by air.
Sea War
German convoy runs into mine­field laid off Norway by FF submarine Rubis bringing her total numbers of sinking to 23 ships.
Neutrals
Switzerland: Death of Abbas Hilmi Pasha, last Khedive (Turkish Viceroy) of Egypt, 1892-1914; aged 70.