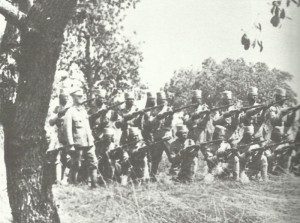 War Diary WW2 for Sunday, January 10, 1915:
African Fronts
East Africa: 500 British soldiers occupy Mafia Island until January 12 (22 miles (ca. 35 km) from mainland with 52 German inhabitants).
Gouverneur Belfield speech in Nairobi '… this colony has no interest in the present war except … its unfortunate position places it … close … to German East Africa'.
Air War
Western Front: Second French aerial victory: Pilot Sergeant Gilbert and observer Lieutenant de Puechredon in a Morane 'Parasol' shoot down a German biplane near Amiens.
France: 16 German BAO aircraft surprise raid Dunkirk after a feint towards Kent coast, where British home defenses were on alert.
Middle East
British War Council agrees to Russia's Constantinople and Dardanelles Straits claim provided Anglo-French get share of Turkey.
Armenia: Yudenich sends force to outflank Turk XI Corps from North.
Arabia­: 2 Indian battalions (1,000 men) in Muscat repel 3,000 Omani Arabs (c.500 casualties).
Politics
Germany: Foreign Ministry invites Russian Jewish Socialist Dr Helphand to Berlin.
Austria: Count Tisza blocks Austrian Foreign Ministry peace territorial settlement memo.
Home Fronts
Germany: Moltke (interior CoS) appeals to Bethmann for food measures.