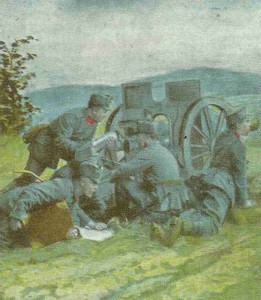 War Diary of World War One for Thursday, November 19, 1914:
Eastern Front
South Poland: Austrian Second Army storms Mykanow and Klekoty but blocked by Russian Fourth Army. Conrad complains 'We…have been holding the door against half Asia'. Plehve's Fifth Army rescues wing of Russian Second Army after forced marches.
Southern Fronts
Serbia: Austrian center captures west slopes of Vrace Brdo (521 ft), Milovac hill and drive back Serb First Army.
Western Front
Flanders: Artillery duels and skirmishes. Indian Corps fire their first 2 homemade mortars, gaining 1 or 2 direct hits.
African Fronts
British Somaliland: Dismounted Camel Corps repulsed 3 times from 3 Dervish forts south of Shimberberris but muzzle-loading 7pdr guns aids their capture.
Air War
Britain: All airworthy home­-based RFC & RNAS aircraft scrambled at Admiralty's urgent request to oppose anticipated sortie by German fleet.