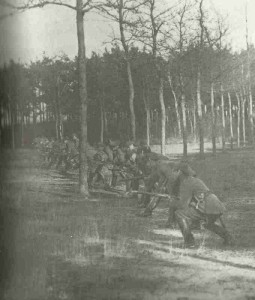 War Diary of World War One for Friday, October 2, 1914:
Western Front
Near Arras Maud'huy is under heavy pressure from 3 German corps until October 6.
Sir J French reports to King George '.. the spade will be as great a necessity as the rifle…the heaviest…artillery'.
Antwerp­: Fort Koningshoyckt and Lierre abandoned. Germans take Termonde.
Eastern Front
East Prussian Frontier: Russians recover Mariampol.
Southern Fronts
Bosnia: Serb-Montenegrin threat to Sarajevo revived till October 4.
Secret War
Ireland: First German wartime spy Karl Lody arrested. Trial begins October 30.
Home Fronts
Britain: Admiral Lord Beresford in Aberdeen recruiting speech says 'All alien enemies should be locked up!'. Kitchener recalls Sir A Keogh as DG Army Medical Services.