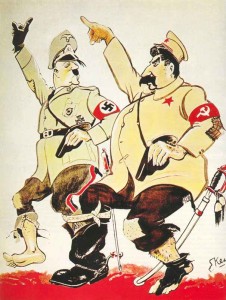 WW2 War Diary for Sunday, September 17, 1939:
Poland
RUSSIAN INVASION OF POLAND against negligible defenses.
German Army Groups North and South link up at Wlodawa, on river Bug, Eastern Poland. Brest-Litovsk Citadel captured.
Polish Government crosses into Romania from border town of Kuty – its fifth, and last, temporary seat in the Polish provinces. All surviving Polish air crews fly to Romania.
Sea War
Atlantic: CARRIER HMS COURAGEOUS SUNK by U-boat U-29 West of Ireland (514 of 1200 crew dead). British Fleet carriers withdrawn from anti-U-boat operations.