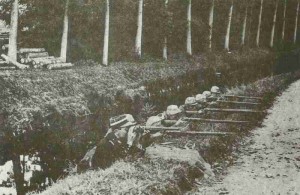 War Diary of World War One for Thursday, September 17, 1914:
Western Front
Belgium: Battle of Mallnes­-Aerschot ends. BELGIAN ARMY RETIRES ON ANTWERP. General Beseler's 'Antwerp Army Group' formed.
Somme: General Bridoux, new commander French I Cavalry Corps, killed in raid on German supply lines east of Peronne (de Mitry takes over).
Aisne: French Sixth Army gains 4 miles (6.44 km) between Soissons and Compiegne. British repel Germans west of Chemin­des-Dames. French Fifth Army evacuates Craonne and driven west of Aisne Canal.
Sea War
North Sea: Churchill in Grand Fleet conference at Loch Ewe; Baltic or Heligoland attack ruled out, but Keyes suggests sending 2 subma­rines into Baltic. Fleet returns to Scapa Flow on September 24.
African Fronts
South Africa: German border raid near Nakob.
Cameroons: 57 Nigerian police repel Germans at Takum. Allied force reaches Lagos.
Secret War­
Western Front: Cryptographers attached to each French army HQ.
Home Fronts
Australia: New Labour Prime Minister Fisher says Australia will back Britain 'to the last man and to the last shilling'.