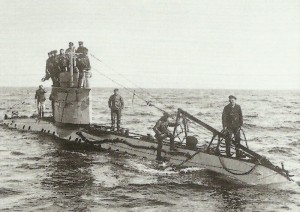 War Diary World War One for Tuesday, January 19, 1915:
Sea War
Germany: First UB-class coastal U-boat UB-1 launched at Kiel, completed in 75 days. Class of 17 U-boats launched by April 23.
North Sea: German aircraft sights Beatty's force on reconnaissance sweep west of Heligoland Bight.
Western Front
Joffre admonishes BEF C-in-C that priority is massing of reserves rather than offensive towards Ostend-Zeebrugge.
Flanders: Snowstorms impede operations.
Alsace: ­German attack on Hart­mannsweiler Kopf preempts French offensive (fighting continues until January 22).
Air War
Britain – FIRST ZEPPELIN RAID ON BRITAIN: German Navy airships L3 and L4 ineffectually bomb East Anglia in night 19-20 January. 20 civilian casualties including 2 children, £7740 worth of damage.
2 RFC FB5 'Gunbus' (No 7 Sqn) fly first-ever night sorties but engine failures entail forced landings.
Politics
Germany: Government protests to US against seaplane sales to Allies; Bryan replies on January 29 that these are not warships.