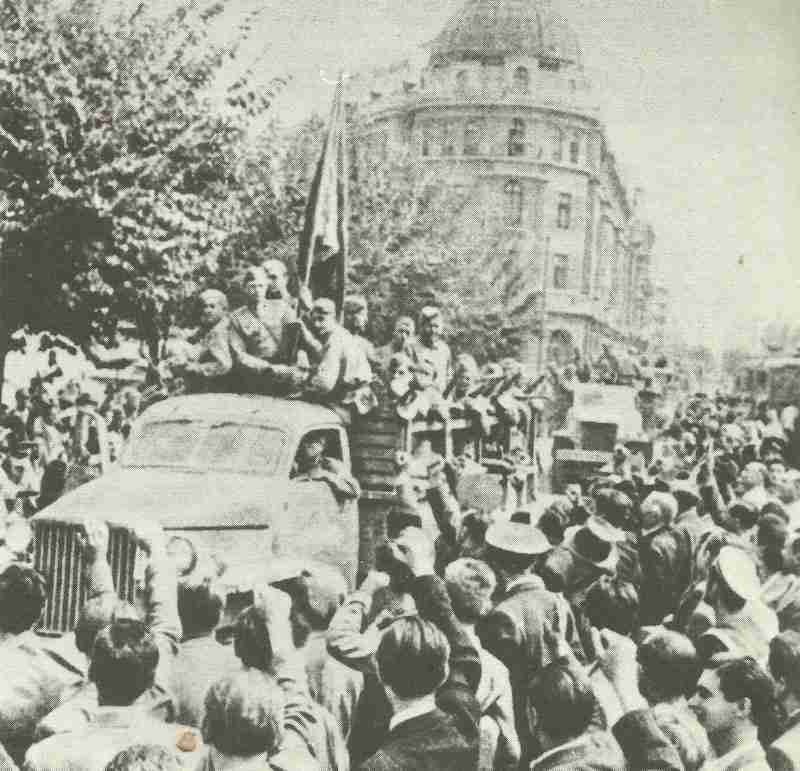 WW2 War Diary for Thursday, August 31, 1944
Russian Front
Russians occupy Bucharest after advancing 56 km from Ploesti inside a day. Big crowds welcome the falsely expected liberators.
Western Front
British cross the Somme and capture Amiens; Americans cross the Mouse, near Sedan.
Sea War
Pacific: 15 carriers of TF 38 carve swathe of destruction across Japanese-held Islands north of New Guinea ­ – attacking Iwo Jima, Chichi Jima, the Palaus, Mindanao, the Visayas and Luzon (August 31-September 24). 1,000 Japanese planes, 150 ships and craft destroyed, for loss of 72 US planes. Americans immediately decide to cancel step-by-step reconquest of the Philippines via Mindanao and to proceed directly to Leyte Gulf.
Merchant shipping losses in August 1944: 13 Allied ships with 60,519 tons in Atlantic, 10 Allied ships with 57,785 tons elsewhere.
66 Japanese ships with 259,022 tons in Pacific.
25 U-boats sunk in the Atlantic, Arctic or Baltic (worldwide total of 41 losses), 15 new U-boats operational, 435 U-boats of all types total in service.
Occupied Countries
France: FFI liberate Bordeaux.
Normandy Campaign Losses:

| | British and Canadian | U.S. | German |
| --- | --- | --- | --- |
| Casualties | 83,825 (16,138 killed, 58,594 wounded) | 125,847 (20,838 killed, 94,881 wounded) | c.200,000 (91,000 PoWs) |
| Planes | 2,036 (8,178 aircrew) | 2,065 (8,536 aircrew) | 3,656 |