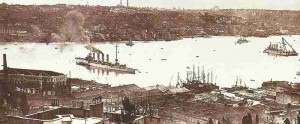 World War One Diary for Monday, August 10, 1914:
SEA WAR
Mediterranean: The German warships 'Goeben' and 'Breslau' pass through the Dardanelles seaway and their British pursuers call off the chase. The German ships, along with their crews, become part of Turkey's naval forces operating in the Black Sea. Enver Pasha tells German admiral Souchon, that Kress forts will protect him. Turk blank shots warn off British cruiser 'Weymouth' next day.
The 'gift' of the two warships acts as an encouragement to the Turks to join the war, particularly as two Turkish battleships under construction in British shipyards had been commandeered by the British at the outbreak of the war.
Indian Ocean: Royal Navy cruiser 'Fox' captures two German merchant ships off Colombo until August 11.
WESTERN FRONT
Belgium: The next of Liege's 12 forts falls to the Germans following a pounding by 17-inch (42-cm) howitzers brought up by Second Army commander General Karl von Bülow.
Lorraine: General Cordonnier destroys German brigades at Mangiennes.
Alsace: Joffre forms Pau's Army of Alsace to renew operations, Bonneau sacked next day.
EASTERN FRONT
East Prussia: Grand Duke Nicholas' first directive orders Northwest Front to support France by invading East Prussia as soon as possible. Russian cavalry reach Tilsit.
Poland: Dankl's Austrian 1st Army invades from Galicia and aims for Lublin and Kielce.
POLITICS
France: The government declares war on Austria-Hungary.
AFRICAN FRONTS
South Africa: Germans raid Cape Colony from Southwest Africa, but give up Swakopmund and Lüderitz Bay radio stations. South African Prime Minister General Botha agrees to British requests to occupy the two towns.
HOME FRONTS
Australia: AIF Recruiting begins.